Navel of Earth
Tour of Delphi
We start the tour from Athens where we pick you up from your hotel and we drive by van or mini van towards Delphi. Delphi used to be of great importance in the ancient Greece. The city was built next to the archaeological site. In Delphi there was the most important sanctuary and oracle from the ancient classical world. Furthermore the city was one of the most significant of the country. The place had a great influence in the ancient times. Currently, it is the second most visited tourist attraction in Greece. It belongs to the list of World Heritage Site by UNESCO. It displays a unique blend of energy, natural beauty and mystery.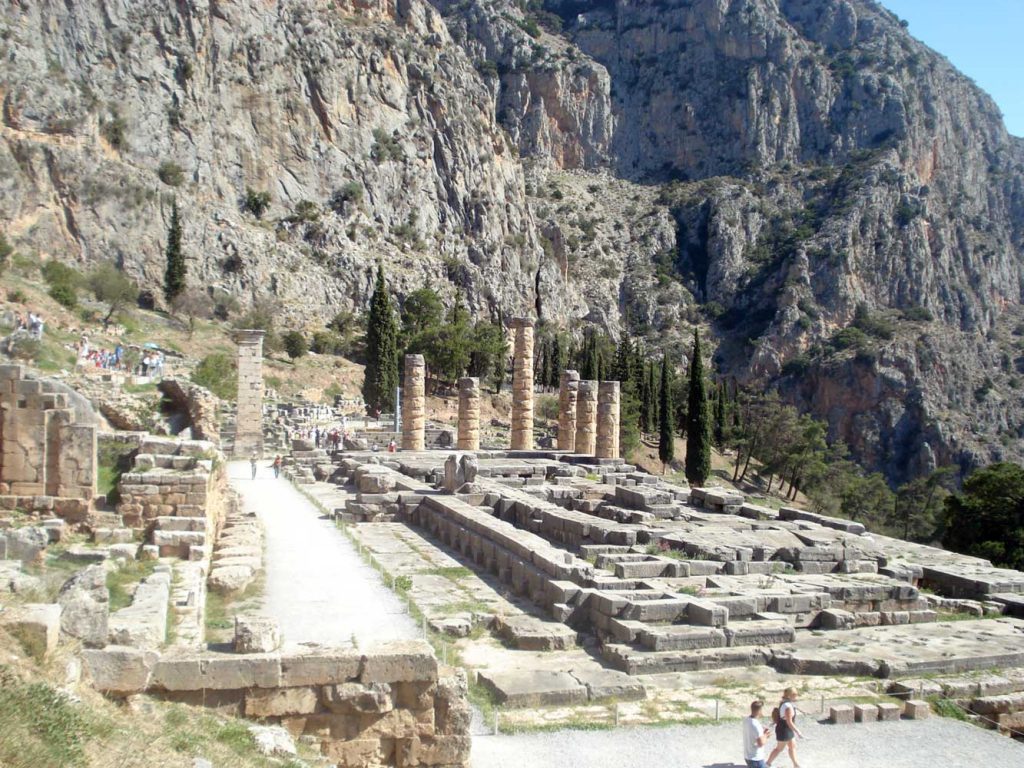 Tour of the Temple of Apollo
According to the mythology says that in Delphi is the center of the world and it has the Omphalos of the earth. God Apollo won the python that guarded the place. So, after prehistoric times the place was dedicated to the god Apollo. The temple of Apollo was built in the area firstly, around the 7th c. B.C. The temple was ruined and rebuild many times in antiquity. Today the temple foundations with several Doric columns have survived.
Pythian Games & the Oracle
In Delphi was, also, taking place the Pythian Games, which were the important panhellenic games of the ancient Greece. Specifically they were the second most famous ones after the Olympic Games. The Delphic stadium is still there and we always visit it during our tour. Additionally, in this place there used to take place musical competitions and other famous festivals of the era.
The place is widely known because of the famous oracle. Several people from Greece and the surrounding areas usually of high importance used to visit the priestess of the oracle for counseling. The priestess, Pythia, was falling into trance and was giving her important oracles. Her answers were always equivocal.
Concluding our tour of Delphi
Delphi is located on the Southern slopes of Parnassus, a mountain of great beauty. The place is charming and serene. After our tour in the archaeological site we always visit the Byzantine monastery of Osios Loukas. Finally we are having dinner at Chalkida and we return you at your hotel.
So have you already enjoyed this tour? Have a look at other tours in Greece!
Departure from your site at 06:30 am
Coffee halfway through if necessary
Lunch or Coffee in Arachova.
Visit to the monastery of Saint Luke
Drive to Chalkida and tide observation
Swimming or dining in Chalkida.
Return late at the evening
The following are included in any tour:
English speaking driver
Luxury vehicle
Pickup services
Fuel & tolls
Bottled natural water
All taxes & fees

The following are not included in standard tours and are provided for extra:
Entrance fees to archaeological sites
Entrance fees to museums
Professional (licensed) guide (you may ask one at the booking procedure)
Personal expenses
Meals (lunch or dinner)
Other beverages
Tips and gratuities (optional)