Ancient Town & Corinth Canal
Tour of Corinth
Location & History of Corinth
Enjoy a private tour of Corinth by minivan, van or minibus depending on your guests. Corinth is a city of Peloponnese close to Athens. It is an important port of Greece and it is well-known for its ancient history and for the famous Isthmus of Corinth. The canal of Corinth basically connects the two offings of Greece. Its length is almost 6 kilometers. Isthmus location is very crucial so a fortress was build there from antiquity. In 1858 the city of Corinth was ruined by an earthquake so the new one was build in the site where it is until now.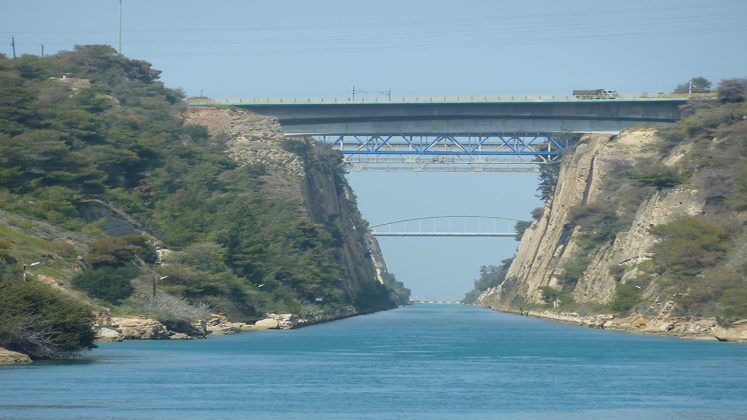 Having a Tour of Corinth
Firstly in our tour after the canal we visit the ancient Corinth which is located next to the modern town. It was built at the foot of Acrocorinth. Acrocorinth is a rocky mountain where its location is very important. Because of its morphology the Acropolis of ancient Corinth was built there. Later, it became a castle during Byzantine times and later. This Acropolis/castle is popular until nowadays and it dates back to 700 BC by Corinthians. Its morphology was changing through the years and by the conquerors.
Ancient Corinth was an important city-state and one of the largest in ancient Greece with great population. It was controlling the crucial area of Isthmus. For this reason, it was one of the wealthiest cities of antiquity for a long time. The history of Corinthia starts in the neolithic era. Later, in the era of the tyrants was built in Corinth the temple of Apollo. It is an important peripteral temple that has been built in 550 BC. It was constructed in Doric style on the ruins of earlier temple. Moreover, Ancient Corinth took place in the greatest battles of that period and its greatest opponent was the Athenians.
In addition, in Ancient Corinthia were belonging many ancient Greek cities. There were two ports, one in every gulf. Isthmia was a place of dedication in Poseidon and the popular athletic-games event was dedicated to him. The Isthmian Games were held every 2 years and were established in 581 BC.
Loutraki for Swimming or Lunch
After our sightseeing in Corinth we visit, also, Loutraki for swimming or lunch. Loutraki is a touristic coastal area for many years. It is famous for its thermal baths and its cosmopolitan beach.
So have you already enjoyed this tour? Have a look at other tours in Greece!
Loutraki swimming or lunch
The following are included in any tour:
English speaking driver
Luxury vehicle
Pickup services
Fuel & tolls
Bottled natural water
All taxes & fees

The following are not included in standard tours and are provided for extra:
Entrance fees to archaeological sites
Entrance fees to museums
Professional (licensed) guide (you may ask one at the booking procedure)
Personal expenses
Meals (lunch or dinner)
Other beverages
Tips and gratuities (optional)